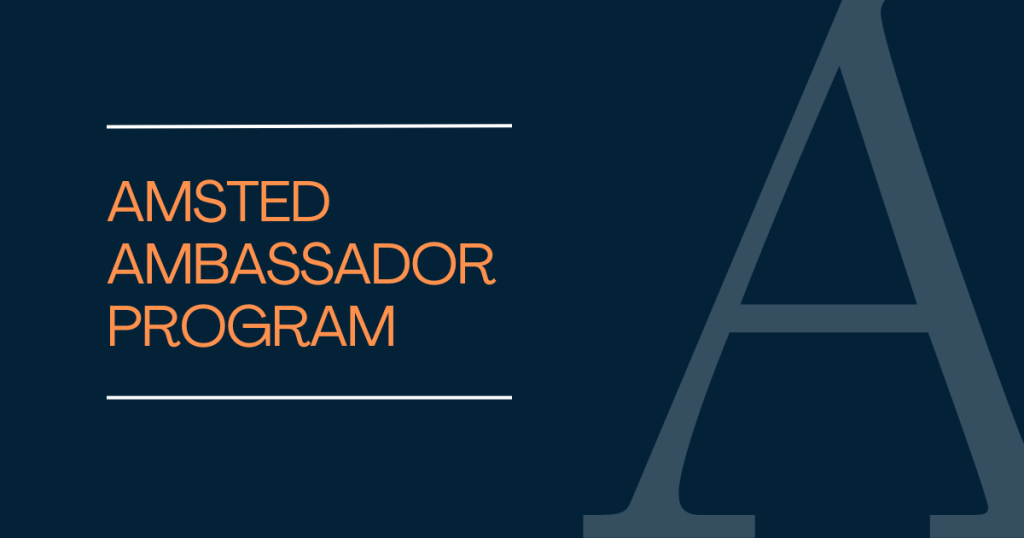 The truth is – we couldn't do this without you!
That's why we've designed a program to turn your loyal support into exciting rewards!
The Amsted Ambassador Rewards Program is our way of saying a heartfelt 'thank-you' to everyone who's kind words, referrals, and engagement have been the cornerstone of our success for nearly 35 years. 
As an Amsted Ambassador, you can earn points by engaging with us in various ways. From writing us a review, to referring friends and family, and subscribing to our online platforms and newsletter, your interactions with Amsted now come with the added benefit of accumulating points. These points never expire and are your ticket to an array of fantastic rewards.
With the Amsted Ambassador Rewards Program, the more you champion for us, the more you earn.
As your points stack up at different increments, you unlock exclusive rewards and perks. Our aim is to make your experience with Amsted even more exceptional, and part of our commitment to have happy customers for life.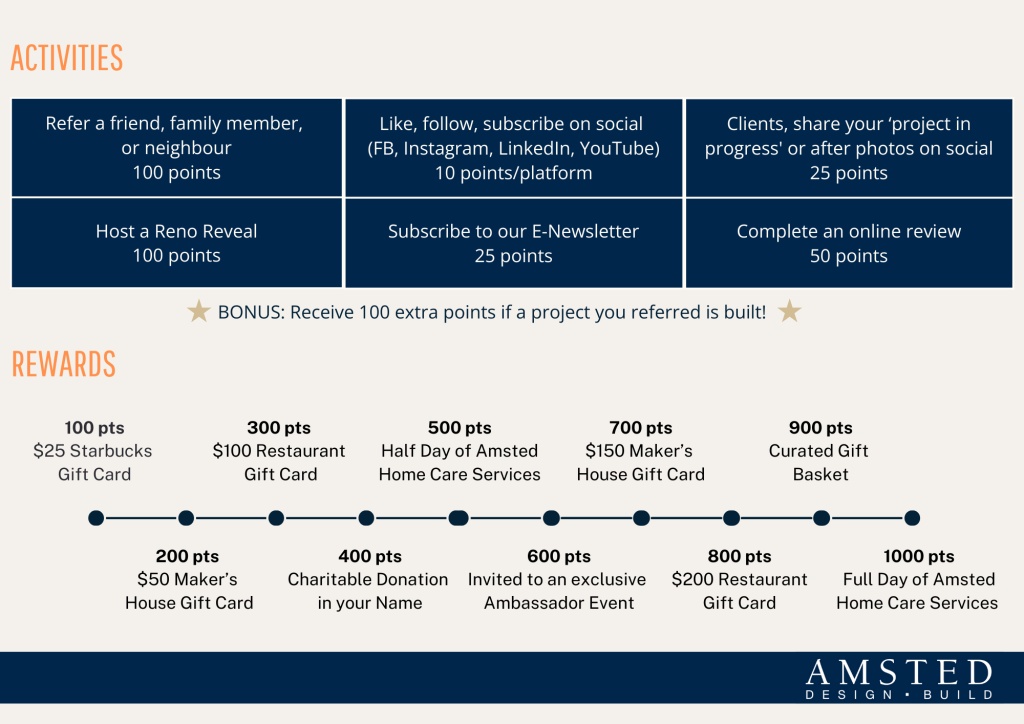 Ready to start earning points?  Enroll in the Amsted Ambassador Program by completing the short online form to create a profile. You'll automatically be entered into the program with your first referral, just let your referral know to tell us that it was you who sent them our way.
***
Terms & Conditions
1. An Ambassador is defined as a person who is championing and acting in the best interest of the company. Points will be awarded when acting in good faith with this in mind.
2. Points and rewards will be accumulated by household address.
3. Home Care Services may only be provided within Amsted's provided service areas. Amsted is not able to complete work in Quebec. All work is to be completed during Amsted Design-Build business hours, unless otherwise agreed upon.
4. Rewards and points are non-transferrable, and may not be redeemed for cash.
5. Amsted reserves the right to change, limit, modify or cancel the Amsted Ambassador Program, with or without notice , at any time, even though such changes may affect the value of points and rewards.
6. All program rewards and services are subject to availability and may be changed at any time without notice.
7. Participants will be notified of their point balance when the reward is delivered.
8. Information collected through the Ambassador program will kept private and will not be shared with any third parties.
For questions about the Amsted Ambassador Program, please contact marketing@amsted.ca .