Creating Your Perfect Custom Homes in Ottawa and Brockville, ON
Custom Design-Build
We know Ottawa. Our decades of experience means that you and your family will live in a home that's built to last. We have expertly constructed homes in every neighbourhood of the National Capital Region.
Listen to our client Keri talk how our custom home services helped her get a home tailored to her desires, needs and personal designs using Amsted's expertise and resources to fill in the blanks to bring her vision to life.
Creating Your Perfect Custom Homes in Ottawa and Brockville, ON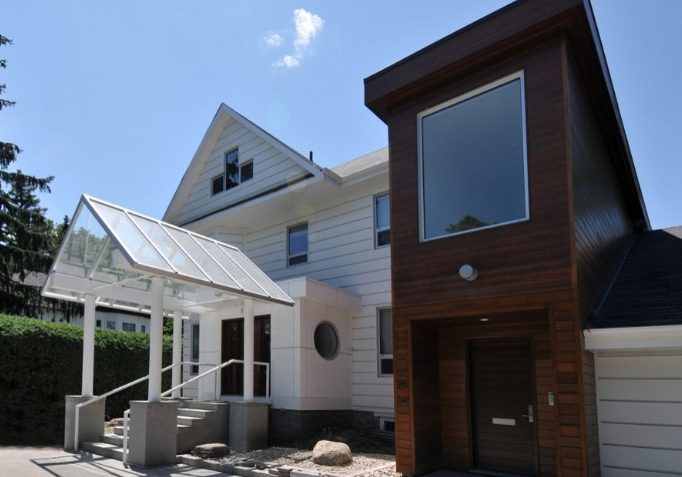 Urban Infill
Many people decide that they want to stay in the city close to their jobs and their kids' schools. There is no longer a need to purchase land far away to build your dream home.
If you live within the greenbelt and want to stay in your beloved neighbourhood, urban infill is the solution. Put simply, it means we will work with you on the considerate demolition of the existing house and the creation of your dream home in it's place.
Adaptive Reuse
We can help adapt your historic home or building. Adaptive reuse is the process of changing one type of structure into another. For example, an old school house can be turned into a family home or condo units.
The important part of a project of this kind is the preservation of the historic look and feel of the building while adding modern touches to really bring it into the present day—a place where history can meet tomorrow.
Estate Lots
If the suburban or rural pace is more your style, building a custom home on an estate lot could be a great option. Many developers are designing communities outside the greenbelt, where you can buy your our lot within a growing community and build a home that suits your unique needs. If you're ready to have a new custom home built on an estate lot, we can help.
Our award-winning design-build team can deliver your estate lot custom home from start to finish. Our team's 600+ years of combined experience, as well as our expertise in bylaws and building codes ensure a stress-free experience and stunning results.
Our world is changing for the better.
In 2013 we won the Platinum Award for the Leadership in Energy and Environmental Design (LEED): a rating system developed by the United States Green Building Council, which is now used worldwide to guide new building construction and renovations to foster a greener, more sustainable future for the benefit of our whole planet.
Amsted built the first R-2000 home in Ottawa in 1991. An R-2000 home puts our planet first, according to Natural Resources Canada who outlines the benefits of buying or building a green home. If you are considering making your new home a sustainable home then we can help.