Kitchen Renovations in Ottawa, ON
What Do Our Kitchen Renovations Include?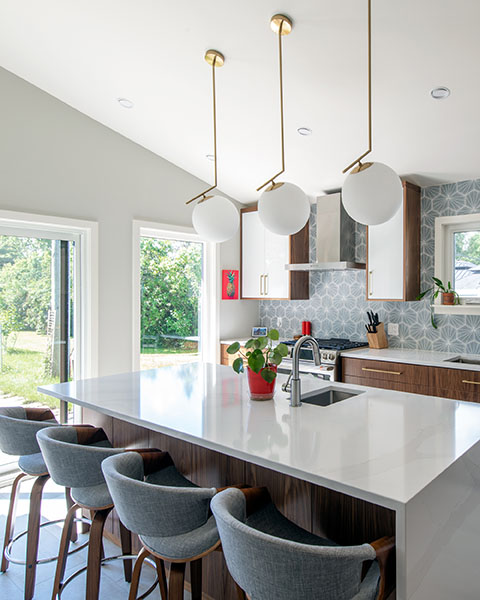 Our Capabilities
Our team is skilled at crafting designs to your needs – meaning we build all kinds of kitchen renovations. Whether you need a small bump-out to expand your current space for some new appliances, or you need to completely gut your kitchen and expand into an existing neighbouring space to build something new, we can make it happen. Our experts at Amsted Design-Build have over 30 years of experience with kitchen renovations, custom kitchens, and designing the perfect space to your specifications. Let us help you bring your dream kitchen to life.
What to Consider When Planning a Kitchen
Together we will look at the space you have now, decide what will stay and what will go, and then look at what kind of raw space you must work with after that. Consider what you do on a day-to-day basis. We'll talk about where you want the outlets to be. The sink? The fridge? The oven? Do you want your appliance spaces to be larger? Are you scaling down or expanding your kitchen?
Reasons for Undergoing Kitchen Renovations
The most basic reason for renovating your kitchen is that how you want to work in your kitchen doesn't match your current space. Many of us are living in kitchens designed for families in the 20's, the 50's, or even the 80's – and our lives just aren't the same anymore. So you're looking for a change. You may need a bigger space, you want to scale down to make room for other renovations, you want to update fixtures and appliances, or the design is outdated and needs a refresh. The reasons are relevant for you and our design team. When we know your top priorities, we know what you want to spend on and where you might want to spend less.
The Benefits of Kitchen Renovations
Aside from the refreshing change that comes from renovating any space and the idea of expanding, beautifying, and organizing your space, kitchen renovations benefit you by allowing you to be flexible with your kitchen. Renovating means you're no longer stuck with the existing configuration, size, or aesthetic for your kitchen. The biggest benefit of kitchen renovations is the ability to cater your space to your personal needs and style exactly as you want.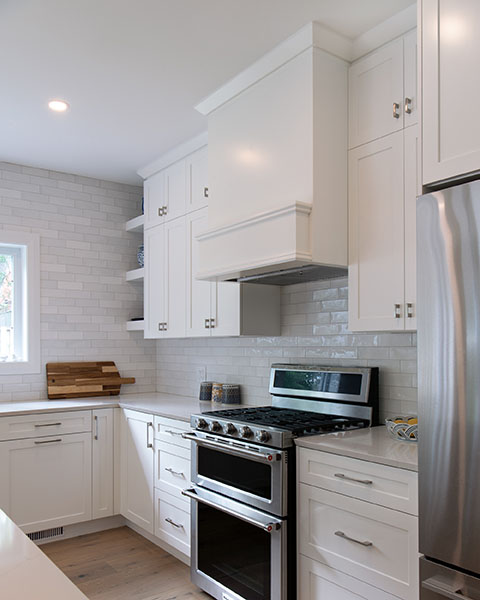 Incorporating DIY Projects into Your Kitchen Renovation
DIY kitchen renovations may be tempting, but unless you have expertise in this type of construction, this is not a safe option and can cost you more if it goes wrong. Let us help you figure out which parts of your renovation will need help, so you get the space you want at the price you need. Our construction experts have the experience necessary to get your renovation done safely, for you and everyone that lives in your space.
Does a New Kitchen Add Value to Your House?
If you have a kitchen with old appliances and you plan to include the appliances when you sell the house, then updating everything will add value to the house. Updating safety features and HVAC systems that include the kitchen, replacing old paint or wallpaper, or expanding the kitchen to make it more functional will also add value to your home. But the biggest value, is in living in a space you love for the duration of your time in the home!
Combine Bath and Kitchen Renovations
Kitchen and bathroom fixtures are often connected. For example, the pipes that run through the kitchen for the sink and dishwasher are often also connected to the bathroom sinks and showers. Because of this, it's a great idea to consider updating bathroom fixtures if you're doing the same with your kitchen renovations. Getting everything done together is likely a simpler option than doing them one at a time; it saves time and could even save you money. When planning your kitchen renovation, consider the placement of your bathrooms and talk to our design team about a combined kitchen and bathroom renovation.
Find Kitchen Renovation Ideas
Need ideas for your kitchen renovation? Visit our gallery to see before and after photos of Amsted Design-Build kitchens. Call us today to get started with our design team and get your kitchen renovation underway.
Choose Amsted Design-Build for Your Kitchen Renovations
The team at Amsted Design-Build will pay attention to every detail you want to incorporate into your new kitchen, provide ideas you hadn't even thought of, work together to create a timeline that suits everyone's needs, and confirm the budget for what you want, all while delivering the functional and beautiful space you've always dreamed of having. Amsted Design-Build services all areas of Ottawa, Brockville, and anywhere in between. Contact us today to get started with your kitchen renovation.