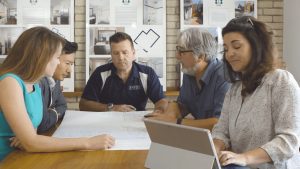 Perhaps you saw or met with us over the weekend at the Ottawa Home Show or the RenoMark Reno Tour. If you are serious about embarking on a home renovation and wanting to learn more about the Amsted Advantage, we have 2 upcoming seminars to help you know more!
With over 30 years of experience, Amsted is well-known for creating successful renovation projects. We also want to share our knowledge on just how to go about thinking about a renovation. Planning is the key to success! So, we're back with our popular seminar series, where you will gain valuable information about renovating that will leave you feeling enthusiastic and well-prepared for planning your project!
Hosted by Architectural Designer, Christopher Mulholland, and Project Coordinator, Amy Derbyshire, this seminar will show you how to select your renovator, how a renovation can add value to your home, followed by walking you through the unique process of Design-Build. Chris and Amy will address common concerns including staying on time, on budget, and communication.
In this interactive presentation, guests will be encouraged to participate and ask questions, and specific real-life details will be provided. The Amsted team will take what most pre-renovation homeowners see as a daunting task and turn it into a smooth process that will ensure both a pleasurable experience for your family and a beautiful transformation of your home.
Refreshments will be provided.
Registration is limited, so grab your spot today! Simply email amanda.lyster@amsted.ca for more information and to register.
Details:
| | | |
| --- | --- | --- |
| OTTAWA | | BROCKVILLE |
| Saturday, October 28th, 2023 | | Saturday, November 25th, 2023 |
| 10:00am – 12:00pm | | 10:00am-12:00pm |
| 681 Bronson Avenue, Ottawa | | 3069 County Rd 29, Brockville |