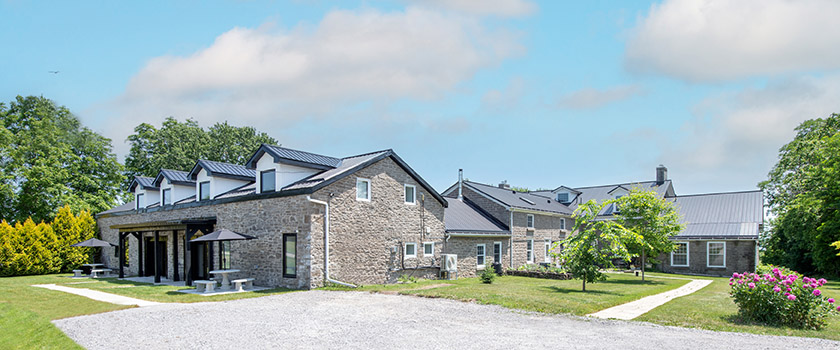 A couple of weeks ago we had the privilege of co-hosting a fantastic evening at the Villas of Maison Maitland.  Located about 5km from the city of Brockville, Ontario, along the St. Lawrence river, the villas are built between the stone walls of the original carriage house and feature two 2-bedroom Villas for guests to stay.  It's a unique venue for a quiet get-away, gathering with your friends, or romantic weekend "stay-cation".
These charming French-inspired villas are attached to a chef's kitchen where guests or visitors are welcome to take cooking classes.  It's a true gem in the heart of Maitland, Ontario!
We are grateful to have had Augusta Township Mayor Jeff Shaver, MPP Steve Clark, Bonnie Ruddock & Katherine Hobbs of RTO 9 and the Brockville & District Chamber of Commerce join us to celebrate the completion of this unique project.  Thanks so much for lending your support to our Amsted Brockville team and your kind words about the work we've done for this project.
As you can imagine, working with a historic building is quite the challenge!  Our Amsted Brockville team worked incredibly hard to bring this building back to life and are so excited to see how this newest attraction will help this picturesque little village grow.
Congratulations to the entire team at Maison Maitland, we are humbled to have been a part of your guaranteed successes!
Here's a little video from the event.